5th Masovian Welding Symposium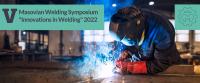 On September 22, 2022 (Thursday), the 5th Masovian Welding Symposium "Innovations in Welding" will take place at the Faculty of Mechanical and Industrial Engineering of the Warsaw University of Technology.
The main part of the symposium will be conference panels, during which papers will be delivered presenting scientific and technical achievements in the field of bonding materials. Below you can download the application form file and the Symposium program.
The Masovian Welding Symposium is one of the most important events related to welding in Poland. It is a unique meeting of industry and science. For 5 years, our Masovian Welding Symposium has been gaining more and more interest. Due to the unsuccessful technological progress, and especially its qualitative nature, we must constantly improve the production techniques.
Program of the 5th Masovian Welding Symposium
10:00–10:15

Opening of the Symposium

Welcoming guests, opening of the 5th Masovian Welding Symposium (Tomasz Chmielewski)

10:20–11:20

Conference panel I

Piotr Wachowski "Directions of development of laboratory research at UDT"
Technical Inspection Authority (UDT)
Paweł Szostak "A new version of friction stir welding Friction Stir Welding"
Technika Spawalnicza Sp. z o.o.
Robert Lazik "Innovative welding systems. Warrior EDGE "
ESAB
Grzegorz Stupak "RHC rival 30 years of experience. Why is it worth welding with non-copper wires? "
Rywal RHC

11:20–11:45
Coffee break.
11:45–13:00

Conference panel II

Dariusz Wabik "FANUC CRx a new era of cooperation in welding processes"
FANUC
Beata Skowrońska, Jacek Szulc, Mariusz Bober, Michał Baranowski, Tomasz Chmielewski "Selected properties of Ramor 500 ballistic steel joints, hybrid welded Plasma-MAG"
Warsaw University of Technology, Supra Elco
Jacek Buława "MESSER three-component shielding gases"
MESSER
Mariusz Bereziuk "ABICOR BINZEL - News and new opportunities"
ABICOR BINZEL

13:00–14:25
Lunch, visiting the exhibitors' stands.
14:25–15:40

Conference panel III

Remigiusz Synowiec "Manual laser welding and cleaning system for typical metal processing using a 1.5kW fiber laser source"
IPG Photonics
Paweł Kołodziejczak, Mariusz Bober, Tomasz Chmielewski "Comparative studies of the wear resistance of high-alloyed protective coatings for the energy industry made with the MAG method in the CMT variety"
Warsaw University of Technology
Grzegorz Rogalski "Qualification of the technology of welding tube sheets on the example of industrial heat exchangers"
Gdańsk University of Technology

15:45–16:15
Summary and conclusion of the 5th Masovian Welding Symposium.
Handing out certificates of participation in the Symposium.
16:30
Social gathering.